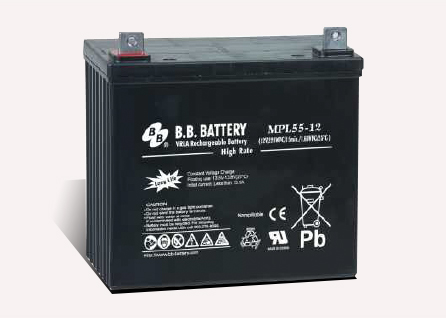 MPL55-12 Standard

MPL Series - For High Rate, Long Life Standby Use
Approx. Weight

:
17.8kg (39.25 lbs)
Dimensions

:
228L x 139W x200H x B5:224, I2:207TH (mm)
8.98L x 5.47W x7.87H x B5:8.82, I2:8.15TH (inch)
Application
: Golf Cart, UPS, Telecom, Cable TV, Power station, Marine
Terminal
: I2 (optional), B5

Specification Download
MPL55-12 Standard MPL Series - For High Rate, Long Life Standby Use
• Maintenance free(no water topping-up required).
• No free acid(Non-spillable battery).
• Low self-discharge rate,lower than 3% capacity loss per month.
• Can be used in any orientation(excluding used inverted).
• The battery is designed with very lower resistance and exceeding high power performance.
• Flame-arrestor is installed to ensure safety.
• Absorbent Glass Mat technology for efficient gas recombination.
---
Cold Cranking Amp @ -18°C: 480 A
---
Short Circuit Current: 1600 A
---
Internal Resistance: ≦5mΩ ( Fully Charged )
---
Operating Temperature Range:
Charge 0 C~40 C(32 F~104 F)
Discharge -20 C~50 C(-4 F~122 F)
Storage. -20 C~40 C(-4 F~104 F)
---
Container Material: Standard: PP( UL 94-HB) MPL55-12 Optional: Flame Retardant PP(UL 94-V0) MPL55-12FR
---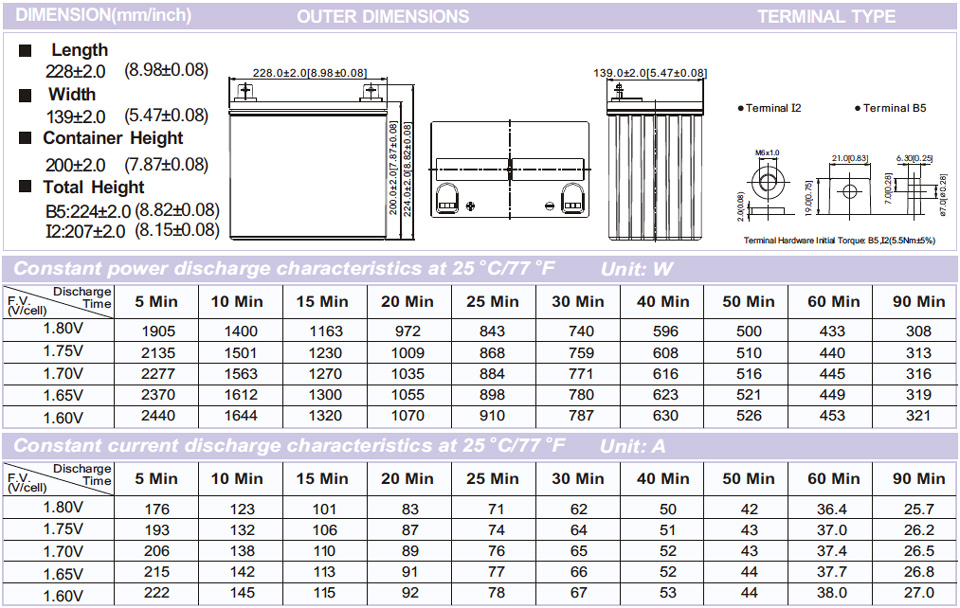 All data and artworks shall be changed without prior notice, BB reserves the right to explain and update the information contained hereinto.


Voltage : 12 V
Approx. Weight : 17.8kg (39.25 lbs)
Dimensions : 228L x 139W x200H x B5:224, I2:207TH (mm)
8.98L x 5.47W x7.87H x B5:8.82, I2:8.15TH (inch)
Terminal : B5 (Fitting M6 bolt & nut) I2 is optional
Max Charge Current : 15.9 A
Application : Golf Cart, UPS, Telecom, Cable TV, Power station, Marine