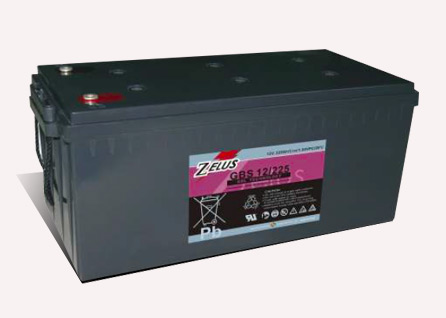 GBS12/225

Zelus GEL Battery
Approx. Weight

:
67.5kg (148.8lbs)
Dimensions

:
522L x 240W x216H x 219.5TH (mm)
20.55L x 9.54W x8.50H x 8.64TH (inch)
Application
: Solar, Wind Power, Telecom, Traffic Light, Street Lighting
Terminal
: I3 (optional), B9

Specification Download
GBS12/225 Zelus GEL Battery
• GBS delivers long cycle life and prolong life in elevated ambient temperatures.
• The generated heat can easy flow to the case walls because the whole volume of the cell is filled with gel.
• The immobilization of the electroiyte in the gel makes acid stratification impossible
• Maintenance free(no water topping-up required).
• Low self-discharge rate, lower than 2% capacity loss per month.
• A small distribution of the special valve opening and closing pressure is important for a good (cycle) life time of the battery.
---
Internal Resistance: ≦3.5mΩ ( Fully Charged )
---
Operating Temperature Range: -20°C~55°C(-4°F~131°F)
---
Container Material: Standard: ABS( UL 94-HB) GBS 12/170 Optional: Flame Retardant ABS(UL 94»VO) GBS 12/170FR
---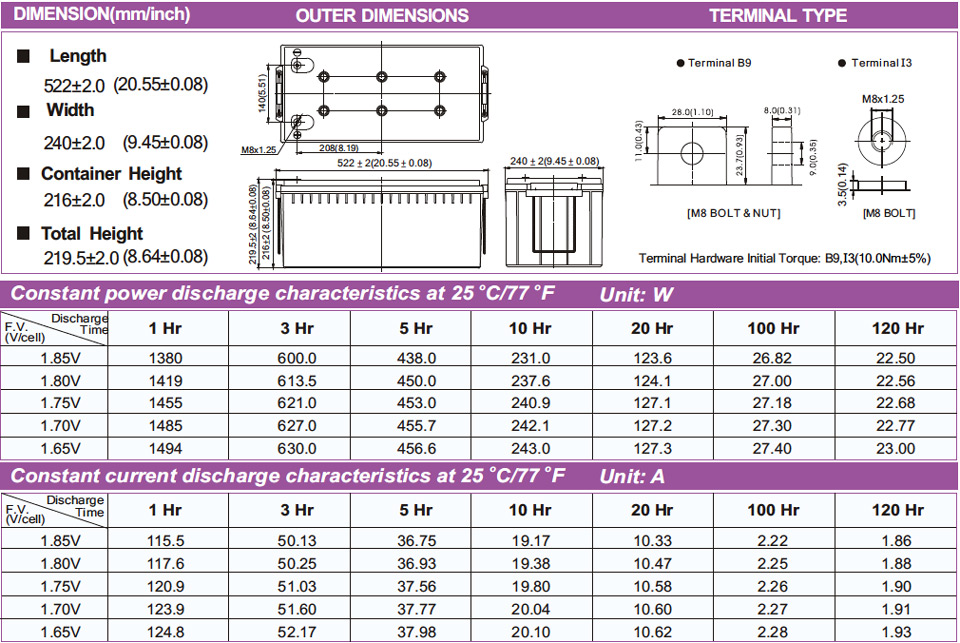 All data and artworks shall be changed without prior notice, BB reserves the right to explain and update the information contained hereinto.

Voltage : 12 V
Approx. Weight : 67.5kg (148.8lbs)
Dimensions : 522L x 240W x216H x 219.5TH (mm)
20.55L x 9.54W x8.50H x 8.64TH (inch)
Terminal : B9 (Fitting M8 bolt & nut) I3 is optional
Max Discharge Current for 5 Sec :800 A (5 sec.)
Max Charge Current : 45 A
Application : Solar, Wind Power, Telecom, Traffic Light, Street Lighting