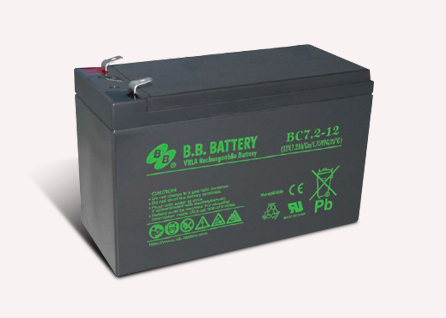 BC7.2-12

BC Series
Nominal Capacity

:
1(20Hr)
Approx. Weight

:
2.2kg (4.85lbs)
Dimensions

:
151L x 65W x94H x 100TH (mm)
5.94L x 2.56W x3.7H x 3.94TH (inch)
Application
: UPS, Laboratory Equipment, Power Pack, Fishing Light
Terminal
: T1 (optional), T2

Specification Download
BC7.2-12 BC Series
• Maintenance free(no water topping-up required).
• No free acid(Non-spillable battery).
• Can be used in any orientation(excluding used inverted).
• Absorbent Glass Mat technology for efficient gas recombination.
---
Internal Resistance: ≦25mΩ ( Fully Charged )
---
Operating Temperature Range:
Charge 0°C~40°C(32°F~104°F)
Discharge -20°C~50°C(-4°F~122°F)
Storage. -20°C~40°C(-4°F~104°F)
---
Container Material: Standard: ABS( UL 94-HB) BC7.2-12 Optional: Flame Retardant ABS(UL 94-V0) BC7.2-12FR
---

All data and artworks shall be changed without prior notice, BB reserves the right to explain and update the information contained hereinto.

Voltage : 12 V
Nominal Capacity : 1(20Hr)
Approx. Weight : 2.2kg (4.85lbs)
Dimensions : 151L x 65W x94H x 100TH (mm)
5.94L x 2.56W x3.7H x 3.94TH (inch)
Terminal : T2 (Faston Tab 250) T1 is optional
Max Discharge Current for 5 Sec :108 A (5 sec.)
Max Charge Current : 2.16 A
Application : UPS, Laboratory Equipment, Power Pack, Fishing Light